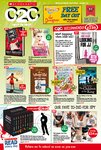 The new Scholastic C2C Book Club catalogue is out - if you didn't get a copy in tutor, you can pick up a copy in the library or have a look online!
Every book is discounted with prices starting from
just £1.99
so you can make great savings and help to support JYHS Library. We receive
free
books for the library with
every
order placed.
We've
set up an online school group order
www.clubs-school.scholastic.co.uk/jyhs
so you can order online and get access to a wider range of books for all ages. You can order at anytime and still support JYHS Library.
However, to get free p&p as part of the school order - order form and payment need to be given to Mrs. Lumsden in the Library by end of day of the 21st March.